Interior Formatting for eBooks
Keep your readers engaged with professional eBook formatting starting at $299.
Today's readers hold their eBooks to the same standards as printed books, making it more important than ever to showcase a professionalism with your eBook that translates across any popular mobile device or eReader, like the Kindle, Nook, or iPad.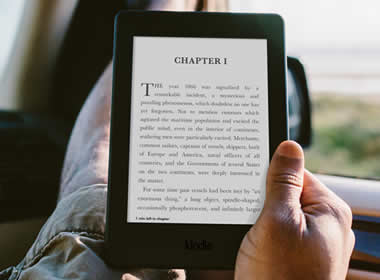 What is eBook formatting?
eBook formatting is a standard design process that turns your eBook's text and images into an attractive layout for readers to enjoy. It's similar to printed book interior design and formatting, but focuses solely on your book in the digital space. Standard formatting for eBooks (ePub and .mobi) feature a dynamic, re-flowable layout for text and images to make sure your eBook looks great when viewed on every size and shape eReader, mobile device and tablet.
King Rush Publishing expert designers will help you deliver the best possible reading experience with a custom format complete with an inviting page hierarchy and clear typeface designed to keep your readers engaged.
Why King Rush Publishing is your best choice for eBook formatting services
We make taking your journey from writer to author as easy as possible with everything you need to make the eBook of your dreams: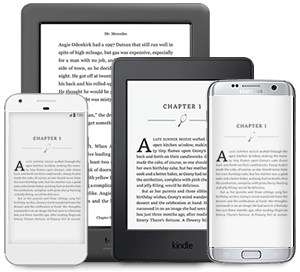 Our professionals will format your digital document in the highest quality so that it's enjoyable on the Amazon Kindle, Apple iPad, Barnes & Noble Nook, and every popular eBook reader (like smartphones and tablets) around the globe.
We are the only eBook self-publishing company that sends you a finished ePub formatting proof of your eBook for you to review and approve.
Our expert eBook designers will first examine your uploaded manuscript to create a custom layout that matches the theme and message of your eBook.
Our book designers don't use templates to design your eBook. Each eBook is custom-made by one of our professional designers right here in our Philadelphia, PA facility.
Our expert eBook designers will examine your uploaded manuscript to create a custom layout that matches the theme and message of your eBook.
Font families, title page setup, front matter, chapter headers, and more, will be carefully selected by our book designers to give your manuscript an aesthetically pleasing style and performance that readers expect from professionally published eBooks.
We stand behind our work with the book publishing industry's only 100% quality guarantee.
How it works
Professional formatting is an essential part of any eBook design. A clear hierarchy and readable typeface helps create a layout that is inviting to your reader. After you've selected your design options and saved your quote, you'll be asked to complete a short design questionnaire. It will give you the opportunity to share your ideas about the mood of your eBook or the style of your pages.
Every section you include in your manuscript (foreword, dedication, chapters, etc.) will be custom formatted to create a polished eBook layout. You will also have an opportunity to upload images of your own for us to work with. Our designers will combine your input with their years of expertise to create a custom-designed book that readers will dive into. We will then send you an EPUB proof of your eBook for your approval.
IMPORTANT: Interior eBook design and formatting does not include editorial services and is strictly a design service. King Rush Publishing does offer stand alone editing services. You should upload your fully-edited and final text. Non-design related text edits after uploading will incur additional cost.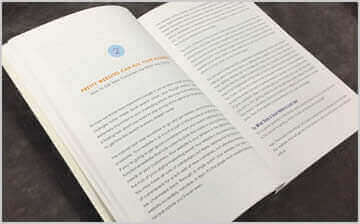 Don't forget your printed book
Give your printed book interior formatting and showcase professionalism online and in stores.