Publish your book on Amazon Kindle and more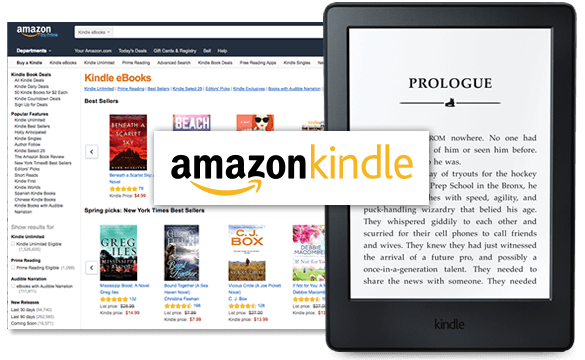 Get Your Book Published on Amazon Kindle
Reach millions of readers by publishing your book on Amazon Kindle. Amazon is the largest online retailer in the world and the Kindle is by far the most popular eReader on the market. With eBook sales gaining year over year, publishing on Kindle simply makes sense for authors. And when you publish on Kindle through King Rush Publishing , your book will be available for purchase on Amazon.com, the Kindle eBook Reader, the Kindle Fire and dozens of other devices.
King Rush Publishing also offers publishing on Amazon KDP Select. If you choose to publish on KDP Select through King Rush Publishing , not only will you get access to the Kindle Select Publishing program, but also to King Rush Publishing large global distribution network.
eBook Conversion
Don't know how to convert your book to Kindle? No problem. We'll convert your eBook to Amazon's proprietary eBook format for Kindle and Kindle Fire — so it's no hassle to you.
Global eBook Distribution
Choose to publish with King Rush Publishing  and we'll make sure your eBook is made available on all the most popular eReader stores. Including: Amazon.com, Apple Books, Barnes & Noble's Nook store, Kobo, and many others.
Your royalties
When you choose King Rush Publishing eBook Publishing, we keep 0% of your royalties. You collect 100% of net sales paid by our online retailer network. It's always easy keep track of your eBook sales in your King Rush Publishing account using your accounting dashboard.
Territories
Australia
Brazil
Canada
France
Germany
India
Italy
Japan
Mexico
The Netherlands
Spain
U.K.
United States
Accepted Languages
English
Afrikaans
Alsatian
Basque
Bokmål Norwegian
Breton
Catalan
Cornish
Corsican
Danish
Dutch
Eastern Frisian
Finnish
French
Frisian
Galician
German
Icelandic
Irish
Italian
Japanese
Luxembourgish
Manx
Northern Frisian
Norwegian
Nynorsk Norwegian
Portuguese
Provençal
Romansh
Scots
Scottish Gaelic
Spanish
Swedish
Welsh
* requires ePub 3 submission
King Rush Publishing also distributes to:
Apple Books
Amazon Kindle
Nook
Kobo
Copia
Gardners
Baker & Taylor
eSentral
Scribd
Ciando
Vearsa
Get worldwide distribution for your book.
Keep your royalties. Publish on Kindle today.
Why publish with King Rush Publishing?
King Rush Publishing has a knowledgeable customer service staff available by phone and email five days a week. We take the headache out of eBook publishing by offering all the services you need like eBook conversion, editing, cover design, printing, and more — all in one place. Whether you want to publish on Amazon Kindle, Nook, or Apple Books, King Rush Publishing has a publishing solution for you.
King Rush Publishing was founded by writers and authors just like you.
Why not publish directly with Amazon?
There are two ways to publish on Kindle. You can sign up directly with Amazon, or you can use an eBook distribution service like King Rush Publishing . The advantage of working with King Rush Publishing is that you get access to the widest distribution network available for independent authors — including Apple Books, and Barnes & Noble's eBook store for the Nook. And that's just the beginning. King Rush Publishing offers a wide array of services so that your publishing experience is a breeze. Our publishing experts will help you every step of the way, so that your book gets the attention to detail that it deserves. Publish your book on Amazon with King Rush Publishing and we'll ensure that your eBook sits on the same virtual shelf as New York Times' best sellers, Pulitzer Prize winners, and time-honored classics.
What if my book is already published on Amazon?
If your eBook is only on Amazon, you're missing out on millions more potential readers for your eBook. King Rush Publishing can distribute your eBook to many other online retailers across the globe, including Apple Books, Barnes & Noble, Kobo and many more. In fact you can pick any combination of retail store distribution during our easy-to-use eBook sign up process.
How much do I get paid per eBook sale on Amazon?
When an eBook priced between $2.99 and $9.99 is purchased by a customer with a billing address in the United States, Austria, Belgium, Canada, France, Germany, Liechtenstein, Luxembourg, Monaco, Switzerland, United Kingdom (including Guernsey, Jersey and Isle of Man), Amazon will pay you 70% of your average retail price for that month's sales, minus a small delivery fee determined by the file size of your book.
If customers outside of the aforementioned countries purchase your book, you will receive 35% of the purchase price (with no delivery charge).
If you price your book higher or lower than that suggested range ($2.99-$9.99), you keep 35% of all sales in all countries.
Download our How To Publish On Amazon guide for answers to questions about publishing and making the most out of your book sales on Amazon.